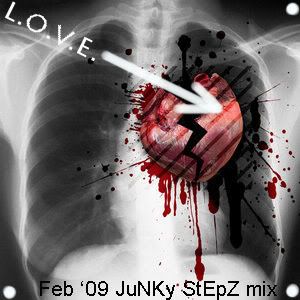 L.O.V.E. (Loud Obsessive Violent Electronic) February '09 mix DJ JuNKy StEpZ
Artwork by Fabu at Deviant Art (http://www.deviantart.com
http://fabu.deviantart.com/art/Broken-heart-16074322
Junkies all over the world, thanks for downloading L.O.V.E. which is my promo DJ mix for February 2009. I know you're probably looking at the present date and thinking:
"Whaaaat ?!?! It's March 2009". Right you are. It is March 2009. My timing is a bit off the normal earthly time, as usual.
I have been working on this mix from January actually and it was intended for beginning Feb. The mix was finished about a week ago, just that my time has been very, very tight.
As nothing goes as planned, the playlist and implicitly the sound of the mix has been constantly morphing into a new, rocking beast which I didn't expect.
It's just so different from what I'd put down on paper at the beggining of January...13 tracks encompassing music from Timo Maas, Mirwais, James Zabiela, Dubfire, Dual Shaman, Boy 8-Bit and a few more.
The mix is about 45 mins long and it brings together 13 tracks mixed and twisted JuNKy StEpZ style!
The link to download L.O.V.E. (Loud Obsessive Violent Electronic)
http://rapidshare.com/files/20…09_DJ_mix_JuNKy_StEPZ.rar
In case you have missed my blog on www.myspace.com/junkystepz or on http://junkystepz.over-blog.com check them out for some FREE "tasters" from the mix. There are 3 tracks to be downloaded FOR A LIMITED PERIOD ONLY, so get a move on!
1. Timo Maas - Enter My World
2. Ladytron - Runaway (James Zabiela's Red Eye Remix)
3. Deepest Darkest Secrets (Martin H Remix) - Lustral & Martin H
And as a BONUS you'll also find there Dubfire Vs. Oliver Huntemann - Diablo - this track is something new, and weird, realy weird. but we love weird don't we?!? - Yeeees, we do. It has the greatest chances to be featured on the March '09 edition of the "JuNKy StEpZ adventures in Music land"
Bummer, it's March already…Gotta get started!
Enjoy and Stay High!
JuNKy StEpZ x