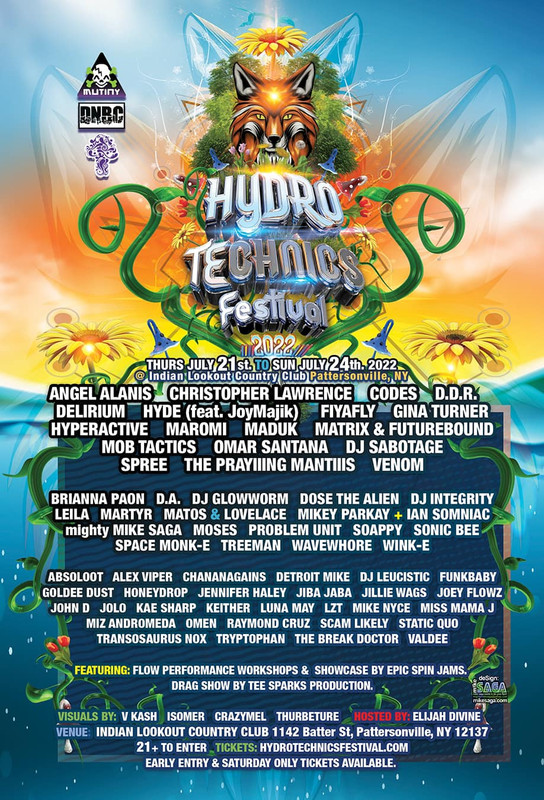 The Mutiny presents…
HYDROTECHNICS FESTIVAL 2022
Thursday July 21 to Sunday July 24 - 2022
Coming into our 8th annual Hydrotechnics Festival we are prepared to bring you a whole new show while staying true to our underground roots featuring old-school legends, unique musical acts and talented artists coming together to create a weekend experience where we are all family in our own little home! This year's festival will feature 3 stages of full scale concert production and lighting, interactive deco exhibits and performers and an immersive site lighting scheme in order to transport you to a whole new world for a weekend away from your worries among friends!
First and foremost, we'd like to introduce you to our new summer home, Indian Lookout Country Club in Pattersonville, New York! Located just outside of Albany, NY this beautiful piece of property tucked into the hills of New York has everything. We will enjoy serene nature views and ample space to spread out at our new home for for weekend with plenty of centrally located camping. Our new layout allows us to streamline our entry process and organization and we're confident that were going to be able to bring you a comfortable and organized Hydro experience like never before!
Featuring:
ANGEL ALANIS CHRISTOPHER LAWRENCE CODES D.D.R.
DELIRIUM HYDE (feat. JoyMajik) FIYAFLY GINA TURNER
HYPERACTIVE MAROMI MADUK MATRIX & FUTUREBOUND
MOB TACTICS OMAR SANTANA DJ SABOTAGE
SPREE THE PRAYIIING MANTIIIS VENOM
BRIANNA PAON D.A. DJ GLOWWORM DOSE THE ALIEN DJ INTEGRITY
LEILA MARTYR MATOS & LOVELACE MIKEY PARKAY + IAN SOMNIAC
mighty MIKE SAGA MOSES PROBLEM UNIT SOAPPY SONIC BEE
SPACE MONK-E TREEMAN WAVEWHORE WINK-E
ABSOLOOT ALEX VIPER CHANANAGAINS DETROIT MIKE DJ LEUCISTIC FUNKBABY
GOLDEE DUST HONEYDROP JENNIFER HALEY JIBA JABA JILLIE WAGS JOEY FLOWZ
JOHN D JOLO KAE SHARP KEITHER LUNA MAY LZT MIKE NYCE MISS MAMA J
MIZ ANDROMEDA OMEN RAYMOND CRUZ SCAM LIKELY STATIC QUO
TRANSOSAURUS NOX TRYPTOPHAN THE BREAK DOCTOR VALDEE
Flow Performance Workshops & Showcase: EPIC SPIN JAMS
Drag Show: TEE SPARKS PRODUCTION
Visuals: V KASH ISOMER CRAZYMEL THURBETURE
Hosted By: ELIJAH DIVINE
Venue: INDIAN LOOKOUT COUNTRY CLUB
1142 Batter St.
Pattersonville, NY 12137 United States
Early Entry & Saturday Only Tickets Available.
21+ To Enter.
Our Event Will Also Include:
- Full Flushable Bathroom Trailers with Sinks
- Shower Trailers with Fresh Running Water
- Vendors Row Comprised of Artists and Craftspeople Displaying their Wares
- A Unique Assortment of Food Vendors
- Yoga
- Flow Workshops
- Hydro Camp Games
- Cool Down Activities
Facebook Event Page: https://www.facebook.com/events/259504909598433
Ticket Link: https://theticketing.co/e/hydrotechnics2022
Festival Website: https://www.hydrotechnicsfestival.com