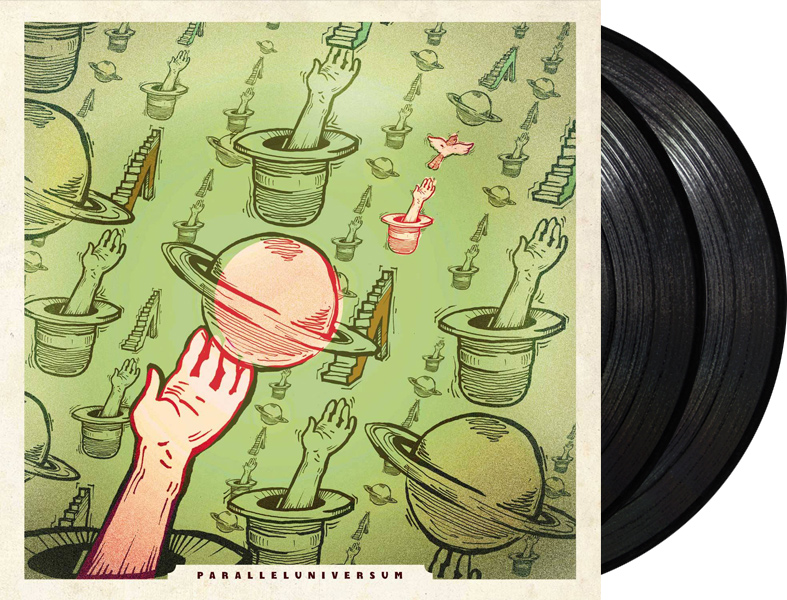 Before there were the Dominance and Harzfein labels in the city of Dessau, Germany there were the "Pioniermanöver" (Pioneer Maneuver) albums on Halb 7 Records in 1994 and 1995. These compilations where some of the first released documents of the East German Hip Hop scene in the back then still freshly reunited country. They also included debuts by people of the Dominance and Harzfein crews, like the group Prime Dominance, DJ Magic Mayer, ZM Jay or Dagobert.

20 years later, Selekta Ras, one half of Prime Dominance, created the "Paralleluniversum" project featuring many of the original "Pioniermanöver" artists and some new talents. The 20 songs ranging from German Rap, a little Reggae & Trap to Electro, coming from German cities such as Leipzig, Dessau, Dresden, Magdeburg, Berlin or Munich, are now available on 2x12" vinyl and CD.


Various - Paralleluniversum (Paralleluniversum Records)

01. Selecta Ras – PU Intro
02. Dude & Phaeb – 1989 (IAMPAUL RMX)
03. Jokestar & SMC – Melodic Dancer
04. Rasputin – 94
05. Casper Hight & MIZBEATZ – Zeit Von Damals
06. Brandcanyonbeton – Bummsman
07. Antihelden – Dämonen
08. Seysn33 – Echte Mucce
09. ZM Jay & Ronny Trettmann – Sie Will Ein' Sachsne
10. Die 3 glorreichen 5 (Poise, ZM Jay & Mirco Nontschew) – Reggae, Reggae
11. Funkfood Records feat. No Mercy – Hold Up Da Mic
12. Funkfood Records – Lonesome City Cowboy RMX
13. Psycho79 – Was Geht? RMX (Vinyl) / Träume Diesen Traum RMX (CD)
14. Ras'n'Diplomat – Ultrasonic Warhead (Far I RMX)
15. Bionicx – The Rush
16. Duktus – DE Town Cruiser
17. Ras'n'Magic – Straight Out Of Volkmarsdorf
18. 2wei (aka Magnetic Bass Force & DJ Magic Mayer / Harzfein) – Maschinen Bereit
19. Hyboid – Hyperdrive
20. The Dagonaut – Hyperdrive 2


2x12" VINYL: http://www.saveoursounds.net/en/pu1.html
CD (pressed, Digipak): http://www.saveoursounds.net/en/pu1cd.html


ELECTRO song teasers:






Full album (German HIP HOP & ELECTRO) teaser medley:

Content embedded from external sources will not be displayed without your consent.
Through the activation of external content, you agree that personal data may be transferred to third party platforms. We have provided more information on this in our privacy policy.